Versace is a world-renowned retail and eyewear brand which made its name legendary thanks to the mythological passion; it is centered around the captivating concepts of sexiness, glamour and fashion. All of which shines through in each pair of Versace glasses and prescription sunglasses.
Versace is able to evoke a provocative appeal, to engage in a powerful, passionate and seductive allure characterized by some iconic elements. Versace's style stands out leveraging on its distinctiveness based on the Greca, the Medusa, studs & leather, baroque aesthetics, color & print and metal mesh.
Versace's eyewear is able to match unique and innovative creations with the pure essence of the brand. The frames are original and perfectly embody the style of the Maison featuring its graphic language. Versace addresses fashion and brand lovers with a sense of style who desire to express themselves authentically.
Versace by Luxottica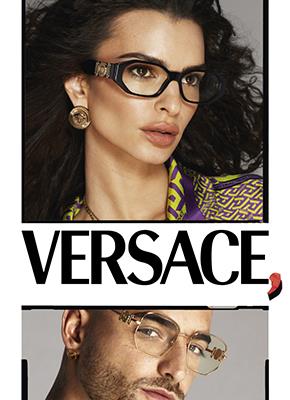 Frames and colors displayed are representative. Additional styles and color options are available in our Optical Centers.