Evoking both the warm feeling of Golden Age America and the grand motifs of modern classic Europe, OGI Eyewear's Seraphin evokes the sturdy sense of a fine accessory, an unspoken weight reflected in the handcrafted finish and careful reverence to hardware details. Timeless colors and textures are coupled with rich new tones and materials to create a modern masterpiece, a distinct pairing of old world tradition and today's boldest trends. From the Clubhouse to the Courthouse to the bustling streets of any city, Seraphin speaks to the polished dresser, the quality conscious, the creative professional with an eye for the authentic.
Released in October 2020, Seraphin Shimmer is the first Shimmer Capsule Collection accented with hand-set crystals that will rock any dressed up or dressed down wardrobe. The glistening stones and super glam shapes give Seraphin Shimmer a standout look that is fashion forward, carrying a precision, luxury and show-stopping flare that will command a second glance.
Seraphin by Ogi Eyewear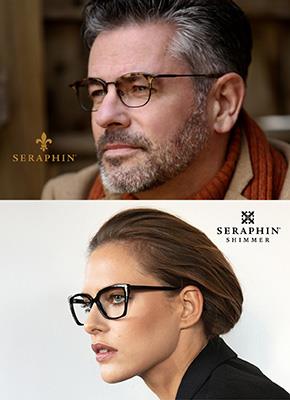 Frames and colors displayed are representative. Additional styles and color options are available in our Optical Centers.