Dr. Seuss is one of the world's most popular children's book authors, who focuses on promoting literacy, education, self-confidence, and the wonderful possibilities of a child's imagination.
Dr. Seuss eyewear offers a wide range of shapes and sizes designed to be fun to wear for kids! The collection includes special features including earlocks, adjustable headstraps and adjustable silicone nosepads. Frames branding includes classic Dr. Seuss characters such as Cat in the Hat, Sam I am, Thing 1 and Thing 2, and Horton. The characters are vibrantly depicted on the temples, endpieces and cases giving kids confidence to proudly wear their eyewear.
Dr. Seuss by EyeQ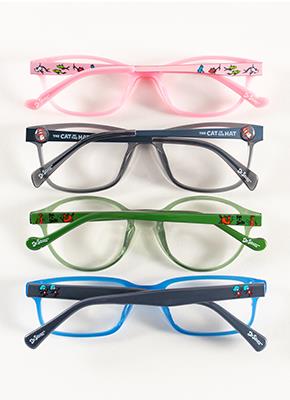 Frames and colors displayed are representative. Additional styles and color options are available in our Optical Centers.