1·Day ACUVUE® Moist® Brand Contact Lenses for ASTIGMATISM
Why ask for these contacts?
Introducing, 1·DAY ACUVUE® MOIST® Brand for ASTIGMATISM. Along with the convenience of no solutions and no lens cases, we brought together our innovative BLINK STABILIZED™ lens design and the exceptional comfort of LACREON® Technology** to form a lens like no other. It gives you consistently clear and comfortable vision from the moment you put them in, to the moment you toss them at the end of the day.
Super Comfortable UV Protection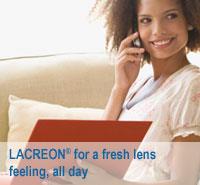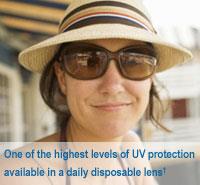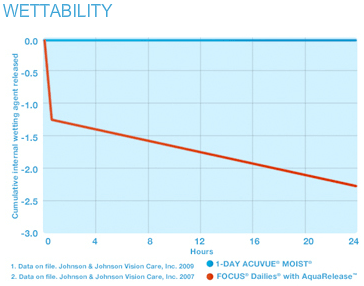 Some lens makers add a wetting agent to the packing solution so when you blink it gets dispersed across your eye.
LACREON® technology mixes the wetting agent into the lens formula itself. It won't blink away over time, giving you a fresh lens feeling throughout the day.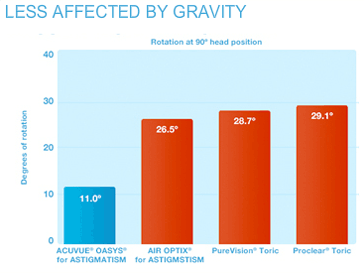 A clinical study showed that lenses with a BLINK STABILIZED™ lens design maintained orientation almost three times better than two leading lenses with a ballast design at a 90 degree head position.*** That means in situations such as lying down to watch your favorite show, your vision can be more consistent and clear.

Important information for contact lens wearers:ACUVUE® Brand Contact Lenses are available by prescription only for vision correction. An eye care professional will determine whether contact lenses are right for you. Although rare, serious eye problems can develop while wearing contact lenses. To help avoid these problems, follow the wear and replacement schedule and the lens care instructions provided by your eye doctor. Do not wear contact lenses if you have an eye infection, or experience eye discomfort, excessive tearing, vision changes, redness or other eye problems. If one of these conditions occurs, contact your eye doctor immediately. For more information on proper wear, care and safety, talk to your eye care professional and ask for a Patient Instruction Guide, call 1-800-843-2020 or visit Acuvue.com.

**LACREON® is Johnson & Johnson Vision Care, Inc.'s brand name for its proprietary technology that permanently embeds a water-holding ingredient, similar to that found in natural tears, into the proven etafilcon A material.

‡Helps protect against transmission of harmful UV radiation to the cornea and into the eye. WARNING: UV-absorbing contact lenses are NOT substitutes for protective UV-absorbing eyewear such as UV-absorbing goggles or sunglasses because they do not completely cover the eye and surrounding area. You should continue to use UV-absorbing eyewear as directed. NOTE: Long-term exposure to UV radiation is one of the risk factors associated with cataracts. Exposure is based on a number of factors such as environmental conditions (altitude, geography, cloud cover) and personal factors (extent and nature of outdoor activities). UV-blocking contact lenses help provide protection against harmful UV radiation. However, clinical studies have not been done to demonstrate that wearing UV-blocking contact lenses reduces the risk of developing cataracts or other eye disorders. Consult your eye care practitioner for more information.